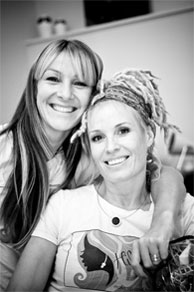 Since being trained by the extradionary Hil Cook my work as a hair makeup and prosthetic artist has graced the pages of numerous leading magazines including Italian Vogue. I've worked on both national and international Film and TV sets (Hobbit and Elysium are to name a few).
I am a perfectionist when it comes to continuity for film and TV. Teamed up with Hil's genius idea for an app, we took the business world by storm and created the first ever iPhone app for Continuity in film and TV. This won us many accolades for business innovation.
Hil and I are a formidable team, with my organization and PR skills we have brought a beautiful fusion between the arts and business. Pretty cool for two
arty farty gals!
I love putting my clients at ease and creating the perfect look for whatever
the occasion. Turning someone
into a terrifying monster or an
exquisite bride, I will give them
my all!!!
The rest of the team: