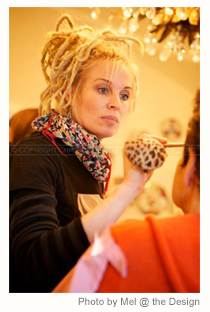 Hil Cook is an extraordinary talent in the world of hair, make-up and prosthetic artistry. Evangeline Lilly, Cate Blanchett and Kylie Minogue are just a few of her gorgeous clientele. Her work has graced the pages of Italian Vogue and International Make-up Artistry Magazine and has lit up the silver screen in some of the biggest movies of all time including Lord of the Rings, Avatar and the Hobbit.
An award winning entrepreneur, Hil's Continuity iPhone app and her makeup remover Solution Buds are exciting must have products for busy makeup and film professionals world wide.
A diverse range of discerning clients have relied on Hil and her elite artists to provide impeccable hair and make up, a vibrant and fun atmospshere yet highly professional service for their most important memories!
Exquisite work, cutting edge
techniques, innovative products
and a earth fun manner makes
Hil and her ladies the perfect
dream team!
The rest of the team: